Spotlight on Sierra Madre Volunteers
Spotlight on Sierra Madre Volunteers is a weekly column that spotlights the people who donate their time to help keep their city ticking. Check each week to see which of the folks you work side by side with is being recognized in the latest edition. Click the photo to enlarge it.
Back to Sierra Madre Volunteers Main Page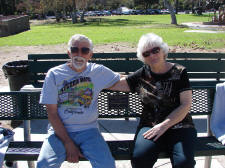 The Carltons -- Volunteers for 40-Plus Years
How do you spell "volunteers"? "Nan and Jerry Carlton," that's how.
These two Sierra Madre residents really live up the the Sierra Madre mantra -- Volunteering is Cool. And their work goes back to 1967 when Nan and two long-gone residents set the stage for the beginning of Girls' Softball. The same three women harassed the City Council into naming the plot of donated land in northeast Sierra Madre after Hal Dapper, a recently deceased (at that time) volunteer of the Athletic Association.
Jerry designed the present diner at that field. He was chairman of that association and president of Pony/Colt where he managed The Reds in the latter. Jerry was a member of the Parks ad Recreation Commission and was chairman of the Trail Race then. In the '70s he was Girls' Softball coach and manager. He and another local man ran the Christmas tree lot for 10 years in the '80s, with money going to town athletes.
Then in 2007, Jerry walked the whole town of Sierra Madre, checking all 469 fire hydrants in the City. Why was that necessary? "We need to know (for the Fire Department) if they are painted properly, if they're accessible, are capped, and if the blue dots on the streets, indicating their presence, are there," Jerry explained. The task took him all summer and the City Council commended him for the job.
Jerry recycles clear plastic bottles and aluminum for the Civic Club and he volunteers at the library book sales. He also substitutes for Meals-on-Wheels and works on the Wine Tasting Committee.
In the '60s Nan took third graders from local schools to Bailey Canyon on nature hikes, usually going to the waterfall and back. She and friends in '67 started Summer Little League and "that was the beginning of Girls' Softball," she explained. Nan is past president of Civic Club and has been a long-time worker for that club. She participated on all of the Relays for Life held in Sierra Madre.
"About four or five years ago" Nan started a knitting club. "We meet at Bean Town two times a week, and welcome others who want to knit." She also worked on the Rose Float for at least 12 years, helping youth volunteers.
Both she and Jerry participated in the PTAs for both Sierra Madre School and Wilson, and taught Sunday School for many years.
Their beginnings? When she was a child, Nan and her mother came by train to Sierra Madre to be with Nan's grandmother, Florence Eakman, who was a well-known poet and children's book author. Nan has lived here ever since.
After Jerry left the Navy, he and Nan met and were married in 1953. Their son, Steve, is a hydro/geologist and has a son and daughter, Wyn and Liz. Daughter Suzi's son is Mike. Sierra Madre lost Sheri Carlton Burnett in 2001, and she left another Carlton granddaughter, Amanda.
Nan is recuperating after having had surgery on Nov. 20 last year, and is slowly getting back to activities. "I have to wait until March to resume going to Curves," Nan remarked.
Why do these two volunteer? Nan answered, "I was a Campfire Girl and that's where you learn to volunteer. You're supposed to give back."