formerly Side by Slide
We may not catch everything, but then, the fishing's half the fun, right?
49 S. Baldwin Ave., Ste. F, Sierra Madre, CA 91024 (626) 355-0510
Back to sidebyslide.com
Last updated Sept. 17, 2000
Chamber Of Commerce Mixer at Foothill Creative Arts Group
Thursday, June 08, 2000
Another Hook, click here
Back to C of C Main Page
Back to C of C Mixer Schedule Page
Picture 3 - Some of the art produced by children at Creative Arts
Picture 5 - Crowd shot
Picture 6 - Crowd shot
Picture 7 - Lew Watanabe, Ann Luke, Don Reed and Knar
Picture 8 - Business card exchange
Picture 9 - Distant view
Picture 10 - A nice welcome from long time friends
Picture 13 - Jim Moran of Sierra Madre Business Center is welcomed as new member
Picture 14 - Sue Levoe makes sure Knar mixes up the raffle tickets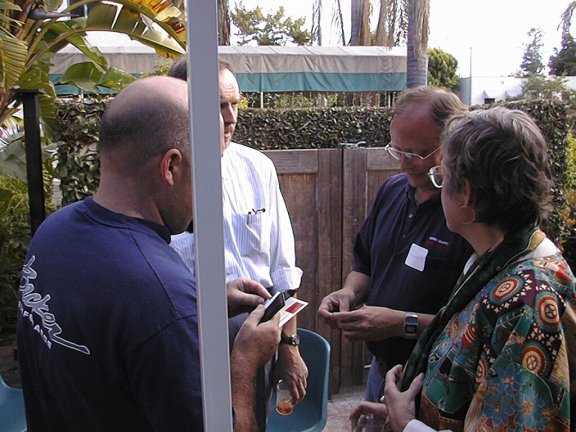 On-Line Subscription E-Paper Area
Non-Subscription Area
Shop online at Side by Slide here! (benefits the Sierra Madre Rose Float Association and the Cystic Fibrosis Foundation)
E-mail Sierra Madre News Net here

Copyright © 2000 by Sierra Madre News Net, Sierra Madre.
All trademarks or product names mentioned herein are the property of their respective owners.
All photographs Copyright 2000, Bill Coburn, Sierra Madre, CA
Graphics for Sierra Madre News Net logo by Gwen Gordon
Any reference to the City of Sierra Madre or Sierra Madre applies to the community of Sierra Madre and not the city government. The City of Sierra Madre, California government is not affiliated with Sierra Madre News Net at this time. Any city government information provided herein has been previously published for public dissemination and is shown here as a public service of Sierra Madre News net without explicit permission of the government of the City of Sierra Madre.