Our spacious facilities can easily accommodate up to 250 guests: the flexible layout can accommodate intimate parties of as many as 100 guests, or if you prefer, full-blown, indoor/outdoor, street closing blowouts for 250 guests.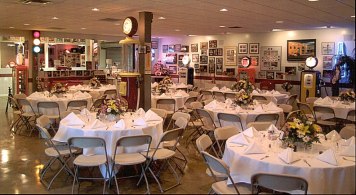 Along with our main building, larger groups can have access to our two additional facilities nearby.
We will custom tailor your event to your particular motoring interests: Harley-Davidsons, Corvettes, Muscle Cars, or one of many other choices. From there we help with all of the logistics of the planning. We provide all the necessities, tables, chairs, linens, silverware, etc. You can personalize your event with your own photographs, decorations, linens or other items.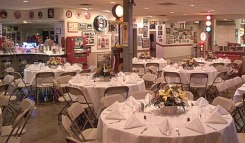 We will arrange for any catering needs you have, from hors d'oeuvres to a full sit-down meal. If you want to kick it up a notch with a disc jockey or live music, we can help with a variety of musical styles, from big band to rock, and everything in between. We offer valet parking, or at your request, we will even pick up your guests in contemporary or vintage limousines.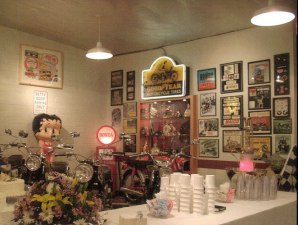 Birthday, anniversary, corporate event, fundraiser, or any special occasion, AREA 51 offers something for everyone, including an array of exquisitely restored and customized autos, nostalgic reminders of our country's automotive history, artwork and photos, and many other fascinating items of interest.

For scheduling and rates, (626) 358-2868